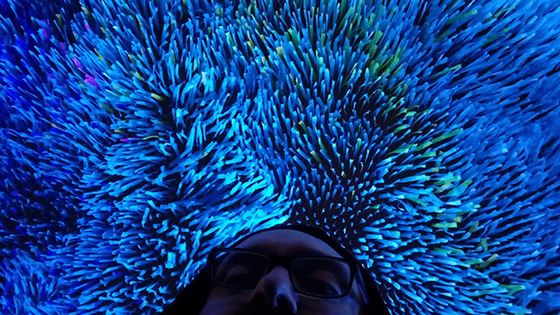 Diego Gómez-Venegas is a media researcher and media artist currently based in Germany. Through an ongoing interest and focus on Foucauldian archaeology and genealogy, as well as on the Berlin School of media theories, Diego develops a doctoral research on Chile's project Cybersyn at the Institute of Musicology and Media Sciences of Humboldt University of Berlin. There, he seeks to seize the media-historical threads that traversed and surrounded the case, for then problematize its true techno-epistemic and cybernetic character —all, by archaeologically and genealogically analyzing the media-technologies and the human-machine couplings through which the project was configured—. His most recent writing on this theme is "Cybersyn and the symbolic memory of paper" in Artnodes (Barcelona, 2019). Diego's doctoral research is supported by a scholarship of Chile's National Agency of Research and Development (ANID).
Previously, until February 2018, Diego was an assistant professor at the Faculty of Architecture and Urbanism of the University of Chile, in Santiago. There, he taught at the design undergraduate program, as well as in the Master of Media Arts at the Faculty of the Arts, being the supervisor of over twenty thesis projects. As the basis of his academic career, Diego developed there both research and artistic projects in the intersection of media arts and experimental design; all, as a mode of inquiry on media-cultures and the technological apparatuses that sustain them. Examples of this are Searching for Euclid (Santiago, 2016), Informe (Santiago, 2016), Algorithmic Mediations for Agonism (Santiago, 2016), and Remoteness of Light (Reykjavík, 2015).
Diego was also the responsible editor for the inaugural issue of the journal Canal: cuadernos de estudios visuales y mediales (Santiago, 2017); co-editor of the book Aciclopedia: Compendium on Form Beyond Canon (Santiago, 2017); and co-author and co-editor of the book Mediaciones Algorítmicas para el Agonismo (Santiago, 2016). Similarly, he is the author of the articles "Experimental Design as Archaeological Practice" in Diseña (Santiago, 2018); "La máquina abierta – una máquina odisea" in Qual Quelle (Santiago, 2018); and co-author of "Nature Ex-Novo" in Kepes (Manizales, 2017).
Diego holds an Master of Fine Arts in Design Media Arts from UCLA, which he achieved thanks to the support of scholarships from the Fulbright Commission, and Chile's National Commission of Scientific and Technological Research (Conicyt).
e: diego[at]gomezvenegas.com
t: +49 1590 180 3132